The Audi ur-quattro is a 2 door, 5 passenger, turbocharged, intercooled, all wheel drive automobile that bears a resemblance to the 80-87 Audi Coupe. The ur-quattro was produced from 1980 to 1991 and was imported into the United States in model years1983-1985.

Start her up

Fly by

Full speed ahead
The Audi Quattro Turbo Coupe (UrQuattro) relies on the venerable 5 cylinder engine which produces a very distinct note. To hear some samples of the 5 cylinder engine click the cars to the left.
Ur-quattro is loosely translated from German to mean 'original quattro'. When it first appeared, the car was called the Audi quattro. As other Audi models were developed with the quattro drivetrain, the term ur-quattro was used to describe the original and is often seen in european automotive publications. &nbsp

Below is a picture linked to a video showing the UrQuattro in action, the UrQuattro changed World Rally forever. Gone were the days when the sport was dominated by rear wheel drive and mid-engined cars.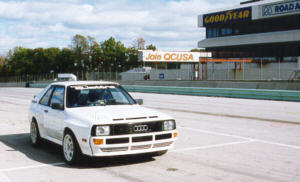 A picture and some info about my UrQuattro
contents copyright 2002 scmclane