The Audi ur-quattro is a 2 door, 5 passenger, turbocharged, intercooled, all wheel drive automobile that bears a resemblance to the 80-87 Audi Coupe. The ur-quattro was produced from 1980 to 1991 and was imported into the United States in model years1983-1985.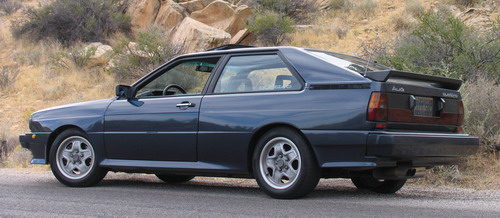 The Audi Quattro Turbo Coupe (UrQuattro) relies on the venerable 5 cylinder engine which produces a very distinct note.
Ur-quattro is loosely translated from German to mean 'original quattro'. When it first appeared, the car was called the Audi quattro. As other Audi models were developed with the quattro drivetrain, the term ur-quattro was used to describe the original and is often seen in european automotive publications. &nbsp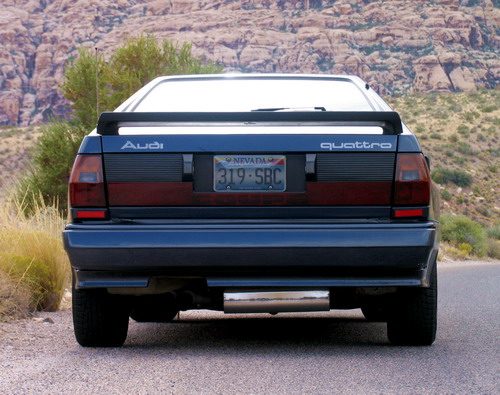 My has been extensively updated/upgraded all the way around. It just turned 70k original miles and is a Colorado car prior to my ownership. The engine is from a 1990 200 Turbo Quattro which runs higher baseline compression and a smaller turbo than stock. The engine has oversized exhaust valves from a NA car and a larger capacity AAN aluminum oil pan. Its chipped to accomodate the upgrades and runs 16psi to the tune of about 260hp. This UrQuattro keeps its cool thanks to a Dyalinx 4 core aluminum radiator. Exhaust is expelled via 2 1/2" straight pipe to a Stebro rear section for a vicious growl which is unique to the Audi 5cyl. Transmission was sourced form a VW Quantum Synchro for its close ratio and 4:11 gearset. Suspension tasks are handled by an Eibach / Bilstein sport combo with the addition of a larger rear swaybar to neutralize the balance. Brakes are currently the popular G60 setup on the front and Audi V8 vented set on the rear.
contents copyright 2004 scmclane